"Stop me and buy one"was the sign on those tricycles that rode around British towns selling ice cream in the 1930s, but at The Small Cake Shop here in Wincanton"Stop here and buy oneHas been the message since we unveiled our brand new ice cream maker a few weeks ago.
Regular customers, in constant search of baking items and gifts, can now indulge themselves with a wide selection of ice creams and milkshakes. Indeed, as the rumor spread, we also made a host of new friends after they walked in and treated each other (and sometimes their friends and family) with soft serve ice cream in a cone or a cup – or a smooth, silky milkshake.
If you like Dime Bars, our blender will add that extra touch to your milkshake to give it that Dime Bar boost – or Kit Kat, Mars or Bounty for that matter. On the other hand, if you are looking for something a little more sophisticated, you might prefer to try Ferrero Rocher.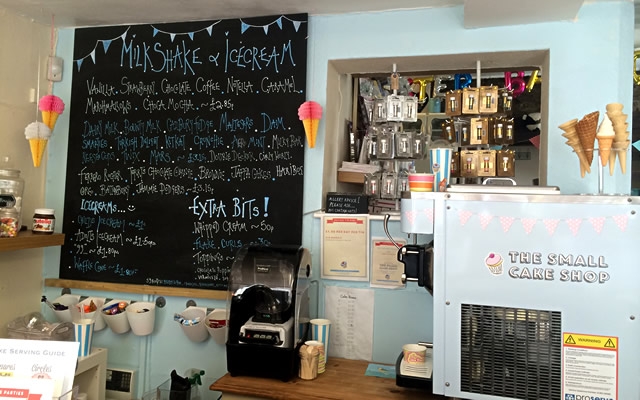 As for ice cream, those perennial favorites, vanilla and strawberry, don't have it to their liking. Caramel, strawberry and rhubarb and apple and cinnamon are just three of our many toppings that have attracted a lot of attention.
For the full range of ice creams and milkshakes, come see us at the Small Cake Shop at the corner of High Street and Carrington Way; Feast your eyes on the menu board behind the counter and get ready to feast your taste buds. Take it or sit outside and escape the pressures of modern life for a few moments to rediscover one of those simplest childhood pleasures – ice cream …